Hey, this is my 100th post...!! :)

So, as you all know by know, Victoria Beckham is the new face of Marc Jacobs, Kirsten Dunst poses for Miu Miu and Kate Bosworth is the new Calvin Klein Jeans model. Well, Mrs. Beckham leaves me unimpressed and I find her ads nothing special - just a usual Marc Jacobs campaign (the lights, the simplicity).
However, Kate Bosworth was a great choice for CKJ, not only because, as the company stated, she is 'all-American' but because in her weekdays she is the jeans-and-something-interesting kind of girl and the pictures are nice as well: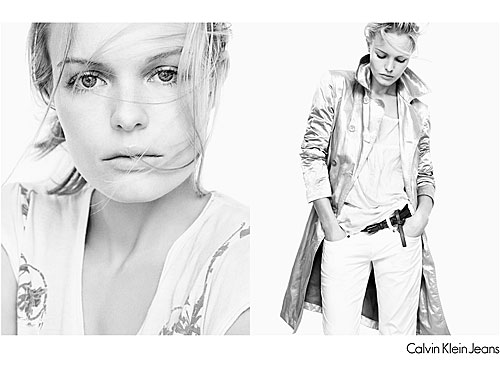 When it was official that Kirsten Dunst would be the face of Miu Miu, I've read on many blogs that it was a bad choice considering her sometimes 'beggar-like' appearence (but I still think she has some great and inspirational everyday outfits). But, as you can see in the pictures below, the ads are anything but cheap or homeless looking:


My favourite is the second picture, I adore the dress... And the colours are great as well, though it is nothing new, we've seen it all before.