Back when she was "just" the girlfriend (then wife) of Marilyn Manson, I did not pay any attention to Dita Von Teese. Then named marriage ended and I've heard she refused to ask for any spousal support. I remember I thought: 'she has enough dignity to concentrate on the love that has broken instead of money - unlike most stars'. And then, I've seen her as the face of MAC Cosmetics, and on the streets of LA, and on the red carpet and I've read some things she had said and suddenly I realized, this woman has grown on me.


She is sexy (of course, she's a burlesque artist), feminine, elegant, intelligent and self-conscious: isn't she what all women should be? Proud of the curves, showing what looks good and secretly hiding what doesn't (she once stated: "I make a point to never, ever point out my physical flaws ... this is advice I give to women as often as I can. People don't notice the things we see in ourselves that we hate, so why direct them to it? Living with your flaws doesn't mean you should tell people about them"), plus, she really is an artist who does not care about all the tabloids and keeps her private life private. That doesn't stop her from attending all the great events Hollywood organizes though and she always manages to be the belle of the ball with her effortlesly chic appearence.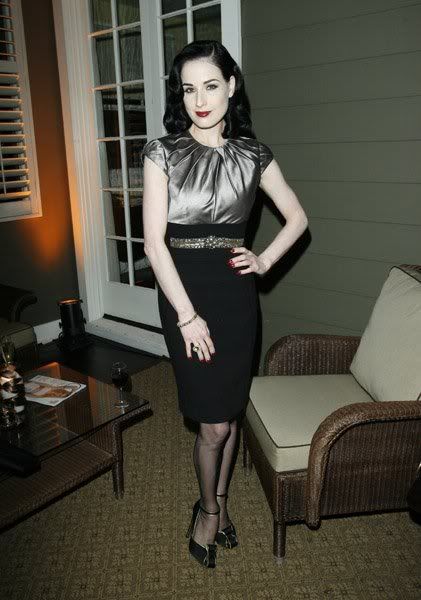 Not to mention her toned, skinny yet femininely curvy and attractive body - due to her job, she knows exactly how to use it. And this is the other thing I find impressing about her: she poses nude for shoots and strips on stage yet sans looking cheap and her 'real life' outfits could be worn by conservative ladies as well.
She also has an ironic sense of humour, and that's the kind of humour I like the most... Example: "Some people say what I do isn't very liberating. I say it's pretty liberating to get $20,000 for 10 minutes work."
When I think of old Hollywood glamour in the 2000s, she is the one who comes to my mind - not without any reason: she works hard on her look and says, "I advocate glamour. Every day. Every minute.
"
Ladies and gentlemen, the body artist of the 21st century.