The Museum of Fine Arts in Budapest has a Picasso, Klee, Kandinsky exhibition (until 27 january), that for me, a Picasso fanatic was something I could not miss.
Of course it was not only the three artists whose works are shown, amongst others there are paintings/sculptures by Gris, Laurens, Friesz, Braques, Feininger... and I could go on and on.
I really love the works of Henri Laurens, his sculptures and the painting Pierrot are wonderful but obviously the main attraction for me was Picasso. There were 14 works by the Master, mostly lithographs. The first one I saw was the Two Saltimbanques:


I really love his (compared to his long life) earlier works when he was "just" drawing figures (like Dressing of hair from 1923), it perfectly shows his talent and special point of view, even without the brilliant cubism.
But there were paintings by him as well, like Head of a man: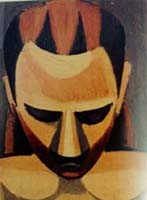 And his coloured linocuts are marvellous...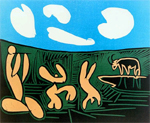 (Sorry for the über-small pictures...)


In one word, there is no word to describe him. Okay, maybe one: genious.
The exhibition's pieces are owned by the Rupf Collection.

And since I was there, I also checked out the Hundertwasser exhibition that was a totally different world, not only because there were tons of people but because his colours, glitters, titles and works are unique. It seems he was in love with windows, streets and houses... and with creating works.
Tears of an artist:


The windows are going home:


This one above is a tapestripe, pretty huge and vibrantly beautiful. I think he is the kind of artist whose creations can only be fully understood if you see them live because the colours and the details are lost if you see them in pictures. So if you can, do visit a museum where his works hang - it will be an exceptional experience.