Being the artfreak that I am, I can assure you I am fool for paintings. So when I got asked about my favourite painting, the answer was anything but easy. It's not difficult choosing my favourite painters - Picasso and Blake, I adore them fanatically - but this time I picked some pieces NOT painted by them but by other acclaimed and great artists - paintings I like and/or can relate to for some reason.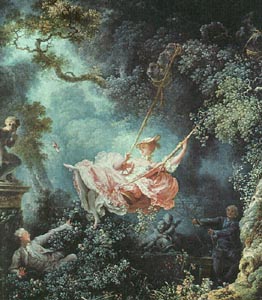 First of all, The Swing by Fragonard. It was love at first sight, the whole atmosphere of the painting captivated me though it is not that visible and perceptible through this small size picture. For the bigger version, click HERE


The Street by Ernst Ludwig Kirchner. When I first saw it, my thought was "vogue". It represents fashion, style, elegance, modernity, urbanization, everything. It's not something no-one else could paint, but it definitely has something capturing, something that makes you stare at it for minutes.


Speaking of staring at paintings for a while, here is Bertalan Székely's Self-portrait. Whenever I tell my friends I would like to go to the National Gallery in Budapest (where it hangs), their response is a quick 'I won't go there with you', because most of them are aware of the fact that to me, a visit to named gallery stands for running to the chamber where this painting is and - not kidding - staying there for hours. I scrutinize it from every angle and from every distance, I like it so much. Even the supervisor lady called for her colleague to check on me to find out what the eff I was doing in front of that picture for such a long time, and it kinda happens all the time I visit the gallery. I don't what it is, but I love this painting and I love the man who painted it and who can be seen in it.


Scream by Edvard Munch - it's pretty much like when you feel like you're screaming in a chamber crowded by people but no-one seems to notice you. It's not that crowded, but the two gentlemen behind the screaming person don't really care, at least in my opinion. It shows me solitude and despair, that's why I like it so much.
Now two non-paintings:


This lithograph by Honoré Daumier got the describing 'Nadar elevant la photographie' as a name (it means something like 'Nadar raises photography', as far as I know, I can't speak French) and it's so windy, so 1800s, even so

Jim Carrey in Lemony Snicket's A Series of Unfortunate Events

that it's simply not possible for me not to like it.


Henri de Toulouse-Latrec's Jane Avril is also a lithograph and I love the bohemian vibe of it, how he manages to depict the Parisian way of (night)life towards the end of the 19th century.

Of course, these are just a few paintings (and lithographs) I like, I could go on and on for ages!