I know I already have a post about (or related to) the Valentino book from Taschen but here's a new picture of it, and let me quote the complete description from the publisher's website: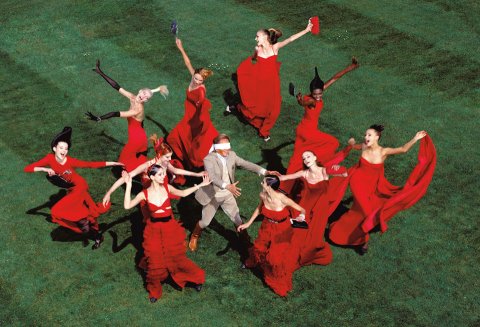 Valentino and his models playing blind man's buff in the gardens of Château de Wideville. Harper's Bazaar USA, June 2007. (c) Jean-Paul Goude.


So, since it's from Harper's Bazaar, you might have already seen it but for me it was totally new and somehow got me.
And some news to those who - like me - couldn't get their hands on one of the €3000 or the €1250 limited edition copies of the book that Taschen is about to release a volume for "mere mortals", that will cost €50. I know it's still a bit pricey, especially considering the usual price range of great Taschen books but I believe they have a pretty good reason to sell it for this much, maybe it's the 576 pages, maybe it's the even higher quality, or most likely both, anyway, it's worth buying if you like Valentino and his gorgeous creations.