You obviously have some pressure on you when you are the daughter of Jane Birkin, actress, director and last but not least pop cultural icon. But there are these two girls who manage to live up to every expectations: Charlotte Gainsbourg and Lou Doillon.


Charlotte is an actress and singer who debuted on the screen as the daughter of Catherine Deneuve and have worked with directors like Franco Zeffirelli or Yvan Attal (who happens to be her husband and the father of her two children) and could be seen in film like

21 Grams

,

The Science of Sleep

or

I'm Not There

. So far she has released two albums and sings a Bob Dylan song on the soundtrack album of the artist's biopic. Though she is half French and half English, her charisma gives the impression of a typical French lady who lives a harmonic life and has fashion in her blood (this one is not only an impression, it's a fact).



Judging by the things we can see and hear in the media, Lou Doillon is more like her mother. With her bohemian yet peaceful image and experimental fashion chocies many name her as their inspiration. She is someone - again, just like her mother - who is not a falling star on the sky of fashion; she is here to stay and prove: casual French chic is not only very much alive, it is stronger than ever.



And the indispensable Miss Birkin herself...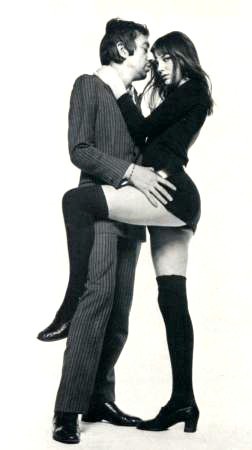 (The man in the pictures is the late Serge Gainsbourg)