Here's the second part of my post about famous director-actor collaborations. Today, it's Anthony Minghella and Jude Law and Pedro Almodóvar and Penélope Cruz.

1.

Anthony Minghella and Jude Law


The untimely death of The English Patient director Minghella meant not only a shock and a grande loss for the film industry, but also the end of a famous and rather successful relationship with Jude Law. Minghella, whose first project with Law was

The Talented Mr. Ripley

(where Jude Law played Dickie Greenleaf so brilliantly that he got an Oscar nomination and this role is considered by many people the best performance he has ever given) and since it turned out extremely well, he hired him in his next film,

Cold Mountain

(the two pictures got 12 Academy Awards nominations put together, one of them was taken home by Renée Zellweger). Minghella's perfect sense of expressing dramatic emotions on the screen not only with directing actors but in other way as well always ended up in beautiful, thought-wakening and touching motion pictures that is quite rare in Hollywood. For this and for being a wonderful person, he will be missed forever.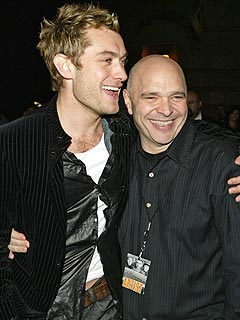 2.

Pedro Almodóvar and Penélope Cruz


This relationship is, without a doubt, world-famous. Cruz counts Almodóvar as someone who inspired her to become an actress (after she saw

¡Átame!

/

Tie me up! tie me down

/) and she also says he helped her become famous when he gave her the small role of Isabel Plaza Caballero in

Carne Trémula

(

Live Flesh

), even if she had been in numerous films before this one. Of course, starring in an Almodóvar movie always means some special respect... After this supporting role Almodóvar did not let Cruz down and offered her a role in

Todo sobre mi madre

(

All About My Mother

) that won an Oscar as the Best Foreign Language Film (Almodóvar's first, and so far only Academy Award).


Following the huge success it was obvious for both of them to continue, regardless to Penélope's Hollywood career. Volver was also very well-received and it got many awards and nominations, including an Oscar nomination for Cruz. No wonder they still consider each other not only friends but also colleagues; and they are currently working together again, this time on

Los abrazos rotos

(

Broken Embraces

).